My brother is born on 12th of July 2007, his name is Thomas. He is born in Dortmund, he weighed 3260 gram and he was 52 centimetres long. My brother is very cute. But sometimes it is bugging when the small one is squalling (like just in this moment). He needs very much care. I help to swaddle him and I look after him when he wakes up and squalls. Mum has still a fat tummy, she looks like if she is pregnant in the fifth month.
When I was waiting nearly one hour for Mum, Dad and the baby in the delivery room, when Mum had the caesarean section, I was so excited that I couldn't read or do anything. I was VERY HAPPY when the midwife showed me my little brother.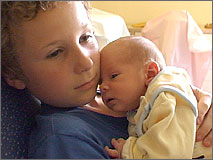 I was surprised how small his hands are. All was well with Mum and Thomas.
In the hospital I drove Thomas in his little bed around in the corridor, that was much fun, and Thomas slept well. Now at home Dad is cuddling Thomas very much. I like to carry my brother around on my arms.
Andreas Habeck - 2007/08/05 17:24